In this article, we will see the best WordPress themes you can use for making any type of website.
WordPress is a very powerful tool for making websites, the design and style of the WordPress website are depended upon the Themes. In WordPress, there are 10 thousand + plugins available and there is also another premium theme available for WordPress users.
From the list of thousands of plugins, it's become difficult for WordPress users to choose the best WordPress plugins for their websites.
Here in this article, we have unfolded the list of best WordPress plugins So that you can select the best plugin for your website.
All these plugins are tested by our expert technical team and found to be good ones.
What are WordPress themes?
WordPress themes are files of codes that are coded in the PHP programming language with some CSS codes. It is mainly responsible for the website layout, design, color, typography, style, and other design elements of the website.
Themes decide the appearance of the WordPress website. It is wrapped in the zip file which contains the template files, stylesheets, images, some JavaScript files, and PHP code which is the main component of the WordPress website.
Themes only affect the appearance of the website it doesn't change the data, such as its database, information, and other permanent information of the website.
It is only responsible for how the website's information will appear to your users.
List of the Best WordPress themes suggested by WordPress experts:
Here we are going to suggest some of the best WordPress themes that you should try for your WordPress website.
Astra
OceanWP
Nozama
Sydney
GeneratePress
Ultra
Neve
Hello Elementor
Hestia Pro
1. Astra: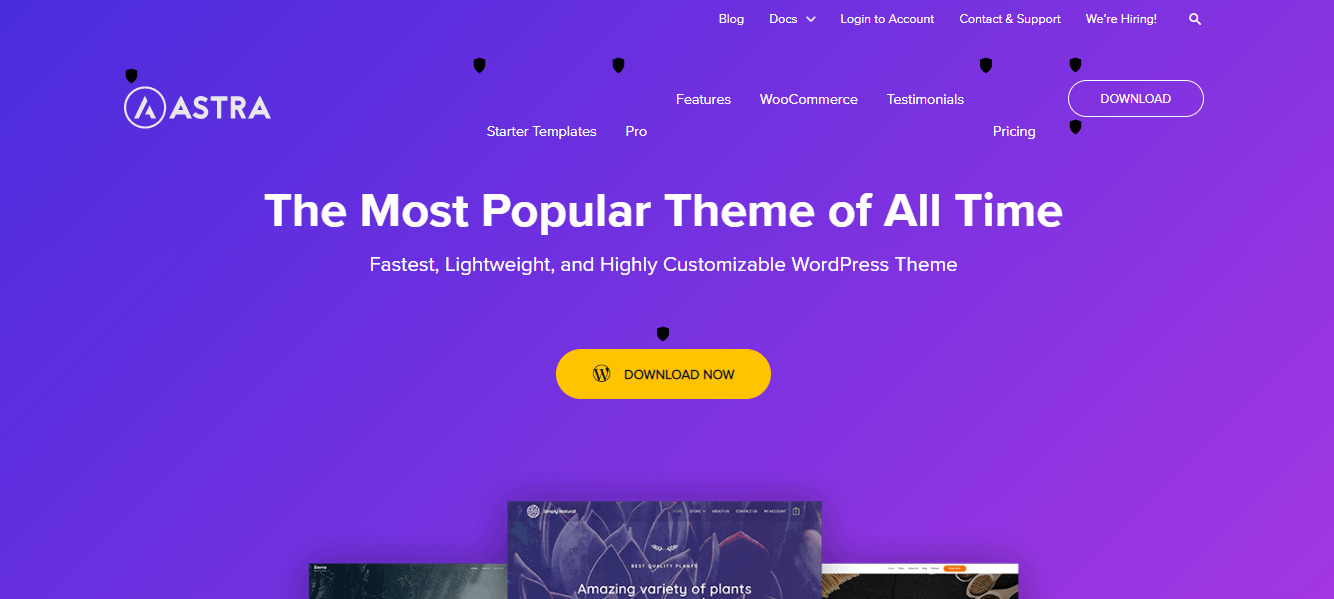 Astra theme is one of the most popular themes in the WordPress market. It is a fast, fully customizable, and beautiful WordPress theme suitable for WordPress blogs, personal portfolios, business websites, and the WooCommerce store.
This theme is SEO-friendly and very lightweight that's why it improves the website speed. Build with schema.org code integration and is native AMP ready so the search engine will love your website and boost its ranking in the search result.
It has many features and templates, so it will work with all the page builders such as Elementor, Beaver Builder, Visual Composers, SiteOrigin, and Divi.
You can build any type of website using the Astra theme as it is fully customizable, and fast which is better for SEO.
Features of Astra Theme:
It is a very lightweight theme.
SEO-friendly theme so you do have not to make the extra effort for SEO.
Beautiful layout and design, loved by the users.
Fully code customizable, you can customize according to your use.
It is secure and made by keeping the cyber security loopholes.
Suitable for the WooCommerce store.
2. OceanWP:
OceanWP is another popular WordPress theme, it is responsive on all devices and very fast and lightweight.
It also provides the demo website importer to the theme so that you can import the ready-made website from wordpress.org.
By using the OceanWP theme you can make any kind of website such as a portfolio website, blogs, business website, and WooCommerce store. It is compatible with all types of websites with a professional design.
It is made considering the SEO practices and WooCommerce enables features that will boost your website conversions.
Features of OceanWP Theme:
Lightweight and fast, which will improve the SEO of the website.
Full customization no coding knowledge is required.
Full control over your website layout.
Global fonts and typography of the website, you can change your whole website fonts and color with a single click.
Import template options for importing the demo websites.
WooCommerce friendly, you can create beautiful stores using the OceanWP theme.
3. Nozama:
Nozama is a WordPress WooCommerce theme that helps you to easily make your website look like an online store.
It is specially designed for WooCommerce users, therefore optimize the store made on the WooCommerce plugin. This theme shows the feature products in a well-optimized manner on your home page of the store.
You can easily customize the Nozama theme using the page builders such as Elementor, Divi, and SeedProd. Here you don't need to go into the code of the theme, it gets easily customized by using the page builder.
Features of Nozama Theme:
It is fully customizable and you can do this by using the page builders.
Especially for WooCommerce users, well optimized for online stores.
Allows WooCommerce integration, easily integrates with all the WooCommerce add-ons.
Provides multiple shop layouts.
Offers the best mobile optimized layout and helps you in SEO.
You can use with your favorite page builders such as Elementor, Beaver Builder, Divi, and other page builders.
4. Sydney:
Sydney is a powerful and most popular theme available in the market it is known for its fast and easy setup with the WordPress website.
It allows freelancers and businesses to make an awesome website with ease, it has the best layout, which is required by businesses and online stores.
Sydney is compatible with all the page builders such as the Elementor page builder, Divi, SeedProd, and other page builders. You can create beautiful blogs using the Sydney theme which is optimize for SEO.
Features of Sydney Theme:
Provides a beautiful layout for the website.
It has the feature of slider, static, and video headers.
Provides the best blog post styles for the bloggers.
100 % optimized performance, Sydney is tested in the leading testing tools such as the Google page Insight, GT Metrix, and other popular testing tools.
Provides 22 complete starter websites for the users.
SEO friendly and fast loading speed.
5. GeneratePress:
GeneratePress is also one of the popular themes in the market. It is a lightweight theme which focused on speed, optimization, and performance.
For GeneratePress performance is the most important thing, that's why it is mostly used and popular in the WordPress market. GeneratePress is less than 10 kb when it is freshly installed on the WordPress website.
It allows full customization as it is fully compatible with all the page builders such as the Elementor and beaver page builders. You don't need to go into its code file, customization is possible by just drag and dropping features.
Features of GeneratePress Theme:
It is a very lightweight theme available in the WordPress market.
GeneratePress optimizes the performance and fast load speed.
Provides lots of customization options to the theme using any page builder.
It also provides the pre-made starter website, which helps you to make the whole website in a few minutes.
Optimized for the SEO.
6. Ultra:
Ultra theme is used to launch the business website, blog, and portfolio website. With the help of this theme, you can create beautiful design layout websites without writing a single line of code.
Easily customize the website design using the page builder by just drag and drop of the website elements. You can start by making the pages the full-width and adding sliders and keeping the users engaged with the sticky headers.
It is fast, optimized, SEO friendly, and supported by professional developers.
Features of Ultra Theme:
It is the fast and fully optimized theme for businesses.
Easy to customize using page builder such as Elementor, SeedProd, and Divi.
SEO optimized theme which helps in the ranking factor of your website.
Best for bloggers and small businesses.
7. Neve:
Neve is fully mobile-friendly and easy to customize using any page builder. It is a multipurpose theme, you can use it for blogs, small businesses, start-ups, agencies, firms, and eCommerce shops.
It is a fully AMP optimized and responsive theme, Neve will load in a few seconds and adapts to every device. This theme is lightweight and highly expandable, it has highly SEO-optimized code which helps in the higher ranking in the Google search result.
Neve easily integrate with WooCommerce plugin and helps in growing your online business.
Features of Neve Theme:
Optimized for the online stores.
It is very lightweight and written in SEO-optimized code.
Good for bloggers, small businesses, and online stores.
You customized the plugins as per your requirement.
8. Hello Elementor:
Hello, Elementor is specially designed for the elementor page builder it integrates seamlessly with the page builder. And makes you customize your webpages by simple drag and drop.
There may be probability that the other plugins are not fully optimized for your builder plugin, but in the case of Hello Elementor it won't be occurred as it is highly customized for page builder plugins.
It is also fast and SEO optimized which makes your website rank higher in the Google search result.
Features of Hello Elementor Theme:
Highly optimized for the Elementor page builder.
Easily creates the website layout with elementor.
Optimized for SEO and fast loading speed.
Customized using the drag and drop page builder.
9. Hestia Pro:
Hestia is a modern theme for professionals. It is optimized and fits the small businesses, bloggers and online stores.
It has a multipurpose one-page design, widgetized footer, blog/news page and a clean look, is compatible with: Flat Parallax Slider, Photo Gallery, Travel Map and Elementor Page Builder.
Hestia pro is optimize for the SEO and speed, which improves google ranking.
Features of Hestia Pro Theme:
Designed for professional websites such as businesses and bloggers.
Optimized for speed and SEO.
Offers beautiful design and layout to your website.
It is a multipurpose theme.
Conclusion:
Above we have shown the best themes which are very fast and light weighted which you can use for designing your website.
All these themes are tested and used by our technical team and found to be the best and most highly optimized for the SEO and loading speed. And These are the main factors for choosing the theme for any website.
So you can select any of the above themes for designing your website, using these themes your website will look decent and very user-friendly.
We hope you find this article useful and help you in finding the best theme for your WordPress website. And if you have any issue related to the WordPress then you can contact us.
And don't forget to comment down in the comment box, which plugin you are going to choose for designing your website.