Are you looking for WordPress magazine themes?
Here in this article, we will show you the 11 best WordPress magazine themes which you can use for making an elegant WordPress magazine website easily. These themes help you in website optimization and also improve the design and SEO part of the website.
Magazine websites are content-rich websites and need a great layout and design which shows all the content in a user-friendly way.
WordPress Magazine Themes:
WordPress magazine themes are specially developed for designing magazine or newspaper websites. Magazine websites have lots of content to show on their website and this theme gives a special design and layout to this kind of website.
It helps to organize the topics, highlight key topics, and publish a variety of content types on a well-organized home page.
Therefore, WordPress magazine themes are a good choice for making magazine or news websites using the WordPress CMS.
11 Best WordPress magazine themes:
In the WordPress directory, there are thousands of themes available, and from them, a few are magazine themes.
It becomes difficult for the beginner to choose the best magazine theme for their website and test all of them. To overcome all this burden our technical team tested the best magazine themes and found them to be fully optimized and good for your WordPress website.
Now, let's dive deep into this theme in detail and see all its features.
List of the themes-
Astra
Multipurpose Magazine
OceanWP
Ultra
News Portal
Hestia Pro
WonderWall
Royal Magazine
Public Opinion
Newscard
Newspaper
1. Astra: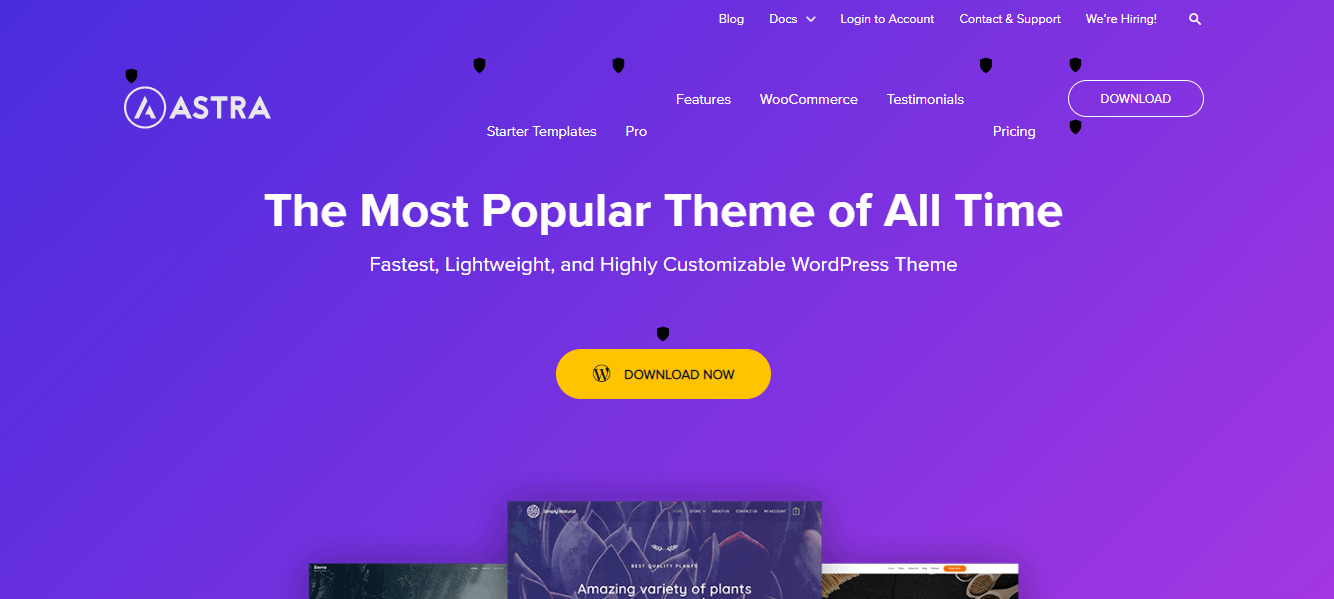 Astra theme is one of the most popular themes in the WordPress market. It is a fast, fully customizable, and beautiful WordPress theme suitable for WordPress blogs, personal portfolios, business websites, and the WooCommerce store.
This theme is SEO-friendly and very lightweight that why it improves the website speed. Build with schema.org code integration and is native AMP ready so the search engine will love your website and boost its ranking in the search result.
It has many features and templates, so it will work with all the page builders such as Elementor, Beaver Builder, Visual Composers, SiteOrigin, and Divi.
You can build any type of website using the Astra theme as it is fully customizable, and fast which is better for SEO.
Features of Astra Theme:
It is a very lightweight theme.
SEO-friendly theme so you have not to make the extra effort for SEO.
Beautiful layout and design, loved by the users.
Fully code customizable, you can customize it according to your use.
It is secure and made by keeping the cyber security loopholes.
Suitable for the WooCommerce store.
2. Multipurpose Magazine:
Multipurpose Magazine is a vibrant and energetic website fully optimized theme for beautiful layouts and designs.
It can be used for making magazines, news websites, blogs, editors, journalists, fitness magazines, informative sites, gamer magazines, and review websites.
You can make any kind of website using this theme, This modern theme is filled with many advanced and high-level features and functions to design a top-performing website.
You can add banners and sliders to make it more attractive, and change the color and typography of your website.
Features of Multipurpose Magazine:
Optimized for any kind of website from a personal blog to a magazine website.
It is responsive and compatible with various browsers.
Optimized for great page loading speed.
Allows you to add banners and sliders to your WordPress website.
It can be deeply customized through a theme customizer to suit your brand and give it a personalized touch.
3. OceanWP:
OceanWP is another popular WordPress theme, it is responsive on all devices and very fast and lightweight.
It also provides the demo website importer to the theme so that you can import the ready-made website from wordpress.org.
By using the OceanWP theme you can make any kind of website such as a portfolio website, blog, business website, and WooCommerce store. It is compatible with all types of websites with a professional design.
It is made considering the SEO practices and WooCommerce enables features that will boost your website conversions.
Features of OceanWP Theme:
Lightweight and fast, which will improve the SEO of the website.
Full customization no coding knowledge is required.
Full control over your website layout.
Global fonts and typography of the website, you can change your whole website's fonts and colors with a single click.
Import template options for importing the demo websites.
WooCommerce friendly, you can create beautiful stores using the OceanWP theme.
4. Ultra:
Ultra theme is used to launch the business website, blog, and portfolio website. With the help of this theme, you can create beautiful design layout websites without writing a single line of code.
Easily customize the website design using the page builder by just drag and drop of the website elements. You can start by making the pages full-width and adding sliders and keeping the users engaged with the sticky headers.
It is fast, optimized, SEO-friendly, and supported by professional developers.
Features of Ultra Theme:
It is a fast and fully optimized theme for businesses.
Easy to customize using page builders such as Elementor, SeedProd, and Divi.
SEO-optimized theme which helps in the ranking factor of your website.
Best for bloggers and small businesses.
5. News Portal:
News Portal is a creative theme that converts your website layout and design into a beautiful Magazine and new website.
It is completely built on the WordPress customizer which makes it highly customizable using the page builder plugin. And you can see the live preview changes of your website.
Here you can import the demo website with just a single click. News Portal Theme is the best choice to create Beautiful & Powerful News, magazine, and blog websites with ease.
Features of News Portal Theme:
Provides a beautiful layout for news and magazine websites.
Optimized for news websites.
Mobile optimized and responsive on both desktop and mobile.
Can be also used for personal and small businesses.
6. Hestia Pro:
Hestia is a modern theme for professionals. It is optimized and fits small businesses, bloggers, and online stores.
Hestia Pro has a multipurpose one-page design, a widgetized footer, a blog/news page, and a clean look, is compatible with: Flat Parallax Slider, Photo Gallery, Travel Map, and Elementor Page Builder.
It is also optimized for speed and SEO which boosts them to rank higher in the Google search result.
Features of Hestia Pro Theme:
Designed for professional websites such as businesses and bloggers.
Optimized for speed and SEO.
Offers beautiful design and layout to your website.
It is a multipurpose theme that will be used for any kind of website.
7. WonderWall:
Wonderwall is a WordPress magazine theme that provides a beautiful layout and design. It gives the professional look to your WordPress magazine website.
This theme is perfect for the magazine website and also good for personal blogs. Wonderwall is more inclined towards the feminist blog but it is suitable for any kind of website.
It is optimized for the SEO and loading time, which will boost the google ranking of your WordPress website.
Features of WonderWall Theme:
Provides beautiful layouts for magazine websites.
SEO optimized and fast loading speed.
Beautiful design which attracts the user's attention.
Fully customizable using any page builders.
8. Royal Magazine:
Royal Magazine is one of the best themes for the magazine website, it is fully loaded with the features required for the news or magazine website.
It is fully optimized for all the devices such as mobile, desktop, and laptop devices. You can use this plugin for almost every niche and it will perform better in every niche.
Royal Magazine is SEO optimized and supports the Elementor page builder.
Features of Royal Magazine Theme:
It is SEO optimized and responsive on all devices.
Supports the page builder such as the Elementor page builder.
Provides various features such as the page banner and sliders.
Professional look at your website.
9. Public Opinion:
Public Opinion is another great magazine theme for the WordPress website. It allows you to create stunning news and magazine website for WordPress users.
Public opinion is fully customized for the SEO and loading speed, which helps in the Google ranking of the website. The Public Opinion news WordPress theme offers a breaking news section just below the menu. You can choose how many posts you want it to display and even focus it on a certain category.
It is best for businesses and individuals who want to make a website based on magazines or news articles then they can go for it.
Features of Public Opinion Theme:
Responsive and mobile-optimized theme.
Allow you to select the custom typography for your website.
Easy WooCommerce integration and provides smooth functioning of the website.
Easily integrate with the page builders and help you in the customization of the theme.
10. News Card:
News Card is also one of the best multipurpose themes and is specially designed for news and magazine websites.
It is designed for travel, fashion, food, music, health, sports, photography, and news websites. The news card are well optimized for both mobile and desktop which will help you in the SEO of your mobile.
Provides the features for the news website and adds all the widgets to the home page.
Features of News Card Theme:
Bold color and style which makes your website look attractive and professional.
It allows organizing your content according to categories.
Optimized for all devices and support all most every browser.
SEO friendly and has a fast-loading speed.
11. Newspaper:
Newspaper themes are specially developed for news and magazine websites. It is a stylish news portal website theme and gives the attractive look to your website, this theme is mainly applicable for online magazines, newspapers, publishing, personal blogs, and any kind of news website.
Provides the best widgets for your home page, multiple widgets areas, header layout, footer layout, multiple layouts of widgets, and many more.
It is optimized for all devices and it is also SEO friendly.
Features of Newspaper Theme:
Elegant website layout and give professional newspaper look.
Well-optimized and SEO-friendly website.
Provides different widgets for your websites.
Attractive and professional look for your website.
Conclusion:
Above we have shown the best themes which are very fast and light weighted which you can use for designing your magazine website.
All these themes are tested and used by our technical team and found to be the best and most highly optimized for the SEO and loading speed. And these are the main factors for choosing the theme for any website.
So you can select any of the above themes for designing your website, using these themes your website will look decent and very user-friendly.
We hope you find this article useful and help you in finding the best theme for your WordPress website. And if you have any issues related to WordPress then you can contact us.
And don't forget to comment down in the comment box, which plugin you are going to choose for designing your website.