Are you looking for the best WordPress table plugins to organize the data?
Here you are in the right place where we will be going to see the 5 Best WordPress table plugins, which are super easy to use and make your data table beautiful and well organized.
Data tables are used to show the data in a formatted manner which makes the users easily read and understand.
So, let's get started-
Uses of the WordPress table plugins:
WordPress table plugins are mainly used for showing the data which has more than one value to compare.
By default, WordPress has the table in the visual editor of the blog posts section. But this table editor does not have many options as the table plugins come with.
For comparing more than one product or anything it is one of the best things that you compare it using the tables. Table increases the readability score of the post and also helps the visitors to understand quickly and easily.
That's why it is necessary to look for the best plugin which has all the features to show your data in a beautiful and organized way.
Table plugins give you access to more features such as Drag and drop feature for making the table, sorting and filter options, and complete color and style control of the table.
This helps make the user spend more time on your post and increases the website's engagement. As the visitors love to read the data which is well organized and structured.
5 Best WordPress Plugins to Present Organized Data:
These are the 5 best WordPress plugins to present the organized data to your WordPress website-
TablePress
Posts TablePro
Ninja Tables
Formidable Forms
wpData Tables
1. TablePress:
TablePress is one of the Table plugins for the WordPress website which creates and manages beautiful tables.
By using this plugin, you can embed the table into the posts, pages, and text widgets by using simple shortcodes. Table data can be edited simply by using the drag and drop method where no code is required.
The data table can contain any type of data from formula to text data. And the additional javascript library adds the features such as sorting, Pagination, filtering, and many more functions for website visitors.
You can also import and exports different format such as Excel files, CSV, HTML, and JSON files.
Features of TablePress Plugin:
TablePress plugin is very easy to use and install.
Creates Beautiful and responsive tables.
An additional feature of sorting and filtering of the table data.
TablePress is free to use and offers different extension plugins which expand the functionality of TablePress.
Tables that are created in TablePress can be embedded easily with the help of the shortcode.
All of the tables are created in the WordPress dashboard, you add the new rows and columns to the Data tables.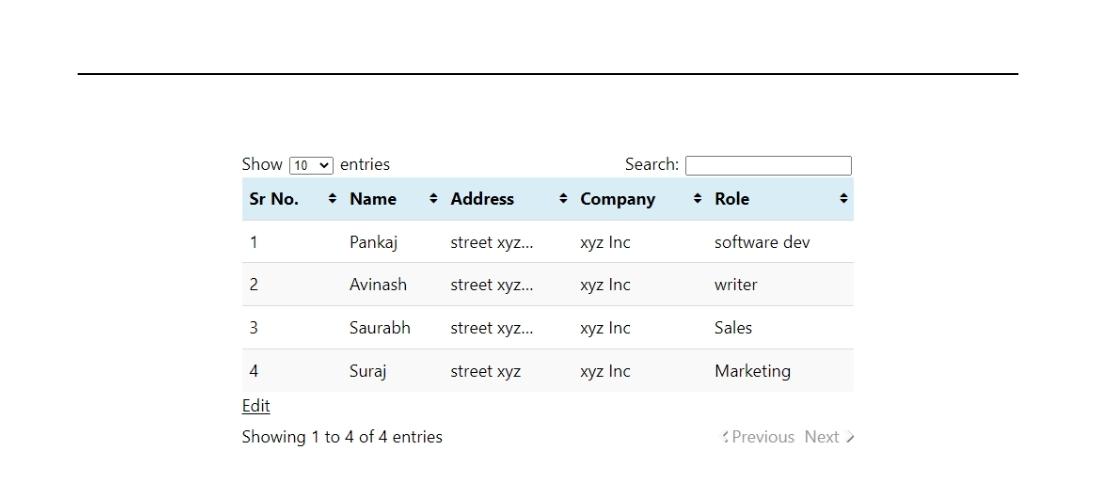 Above is an example of the TablePress table. You can create more attractive tables according to your creativity and requirements.
2. League Table:
The League Table is also one of the Table plugins which creates the sortable and responsive table in the WordPress website.
This plugin also helps you to create a beautiful table for showing the data on your website. Here you can create them with the functionality of sorting and filtering.
It creates the responsiveness tables in your WordPress website. You can also set the alignment of the tables.
Features of League Table Plugin:
This plugin has both free and premium versions. You can switch according to your use.
Easy to install and set up.
Provides the spreadsheet editor which helps you to move your excel, google sheet data to your WordPress website and vice-versa.
It Provides many customizable features such as Table Layout, Table scrollbars, Scalable font size, and many more.
In custom Typography, you can set the custom font family, font weight, and font size.
Striped table, you can improve the readability of the users by many striped rows and columns.
Includes the images in your Data tables.
Automatic and manual sorting and filtering features in your data tables.
You can create more beautiful tables according to your creativity and design sense.
3. Ninja Tables:
Ninja Tables is also a table plugin that creates different types of beautiful tables without writing a single line of code.
This is a powerful table plugin that gives more customization features to create data tables on your WordPress website.
You can customize the templates and design how they will look on mobile, laptop, tablet, and desktop. By using the Ninja Tables, you can create any type of data table for your website such as:
Data Table
Pricing Table
Comparison tables
Responsive Product Specification Table
Employee tables
Image Gallery
Charts
WooCommerce Product Tables [Pro Feature]
Google Sheets integrated table [Pro Feature]
League Points Table
Amazon Affiliate Product Table
Features of Ninja Tables Plugin:
Ninja Tables are easy to install and set up.
It gives the drag and drops features for making the tables.
Offers pre-built templates.
It gives the table design options.
Charts and custom CSS to make your Data tables more beautiful.
Feature of export and import tables.
Google sheet integration and WooCommerce product tables.
Unlimited table colors and customizations.
It is the fastest data table builder.
You can create more beautiful tables according to your creativity and design sense.
4. Formidable Forms:
Formidable Forms is one of the form builder plugins which also comes with the feature of Table builder.
It collects the data from the form and then converts those data into a table.
It is the most powerful plugin which gives both the feature of form building as well as the table builder in the same platform.
This form builder plugin is the free version of Formidable Pro that comes with all the features you will ever need. Build an advanced email subscription form, multi-page form, file upload form, quiz, or a smart form with conditional logic.
Features of Formidable Forms:
Easy to install and set up on your WordPress website.
Drag and drop form and table builder, no coding knowledge is required.
Complete entry management for web forms and surveys.
The only form and table maker plugin with an advanced styler.
Quickly create an advanced WordPress registration form for any use case.
Make powerful quiz forms & calculators.
5. wpData Tables:
wpData Tables are one of the best WordPress table plugins which create beautiful tables.
This plugin is used to quickly create tables and table charts from Excel, CSV, XML, JSON, PHP, and other data sources.
It helps to concise the vast data into user-friendly by converting it into tables and charts.
The main benefits wpData Tables provides to its users are saved time (as it automates displaying data on a website and allows to do so without investing time in coding) and no need to learn to code.
Features of wpData Tables:
Building WordPress tables quickly and easily – no complicated configuration; just simple clicking.
No coding Knowledge is required.
Building WordPress tables quickly and easily – no complicated configuration; just simple clicking.
It comes with all the features such as all the features of the spreadsheet and exporting and importing the Data.
You can make different tables such as the Pricing table, product comparison tables, customer lists, scientific data, and many more.
You can also extend the feature of the wpData table plugin by using its add-ons.
You can create more beautiful tables according to your creativity and design sense.
Conclusion:
These are some of the best WordPress table plugins which create beautiful and user-friendly data tables for visitors.
And if you and your company create the tables for comparing. And showing the data in the organized form then table plugins are the best way to show the Data.
For choosing the plugin for your website it is necessary to identify it. Whether you want a highly customizable plugin or simply want to add the data. After pondering all these points then select the plugin of your choice.
We hope this article helps you. And make you aware of some of the best WordPress table plugins.
If you want WordPress support and help, then you can contact us. We'll definitely solve the problem of your WordPress website.